A very delayed news alert – The FoodKissed family has now moved nest to the JLT neighborhood! During the weekend of the grand move, we got to visit Q6 Bistro to review their menu, and as you can imagine, it was the only two hours of that weekend that was stress-free without Mr FoodKissed fretting over the gazillion cartons, my kids whining over their discarded toys or our nanny mumbling about missing her friends.
So there we were, Mr FoodKissed & I, at this not-so-little café in Media City to experience some quiet time, but more importantly and most hopefully, some good food.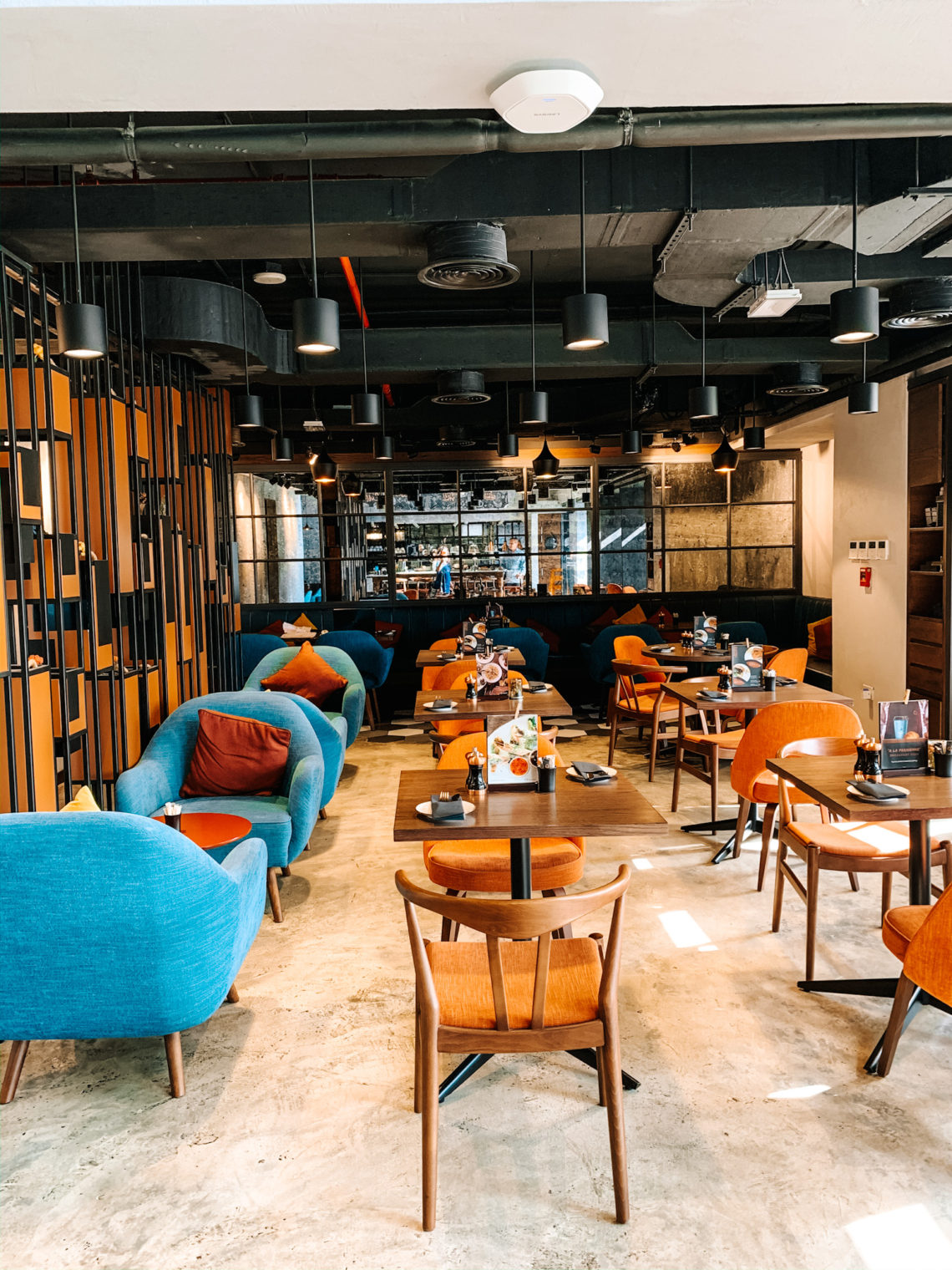 Warm bread and butter arrived first, alongside our drinks. A pleasant orange & carrot juice, but a rather disappointing mango-avocado-strawberry smoothie (AED 26).  The latter made us a bit wary, but thankfully it did not set the trend for the dishes ahead. What came next was one of the most refreshing combinations, combined in a fool-proof manner. The mango-shrimps-avocado starter (AED 45) was ripe, sweet and sensational, and made perfect sense on why it was the best-seller item in their menu. 
Following the trend of refreshing starters, the Goat Cheese Salad (small – AED 31) came next to the table – all the greens, tomatoes & mixed fruits, drizzled in a glorious aged fig balsamic.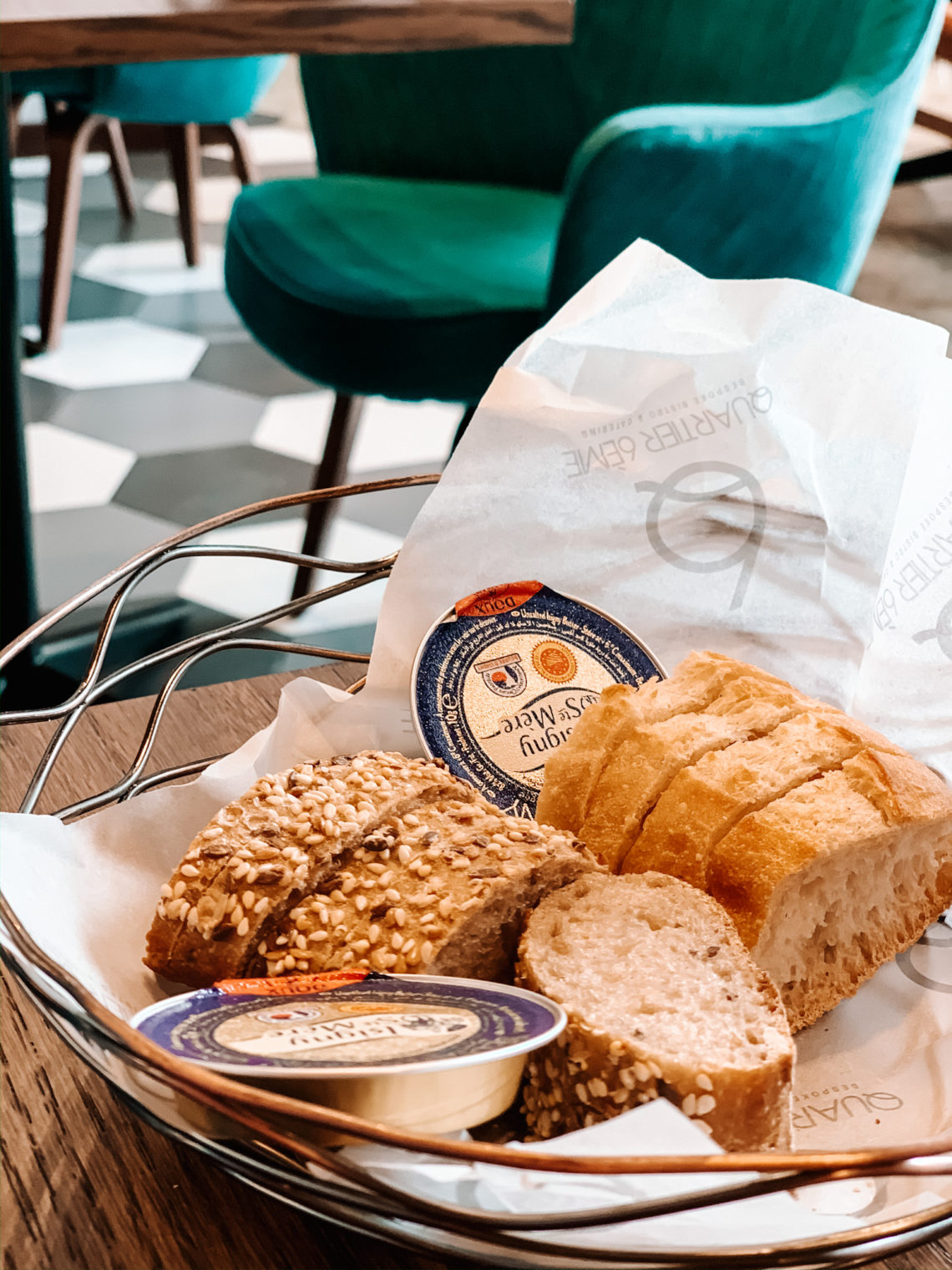 For the mains, I had gone out with guns blazing with an order for the Beef Brisket – a decision I did not regret. The brisket was tenderly cooked, thinly sliced & truly delicious, atop creamy mashed potatoes and grilled broccoli. Mr FoodKissed was queasy with the stress of moving – he settled for the Eggs Royale (AED 48), two organic poached eggs on top of fluffy English muffins and layers of Salmontini smoked salmon and Hollandaise sauce. This came with a side platter of bread and a brilliant flaky butter croissant that was a treat to look at.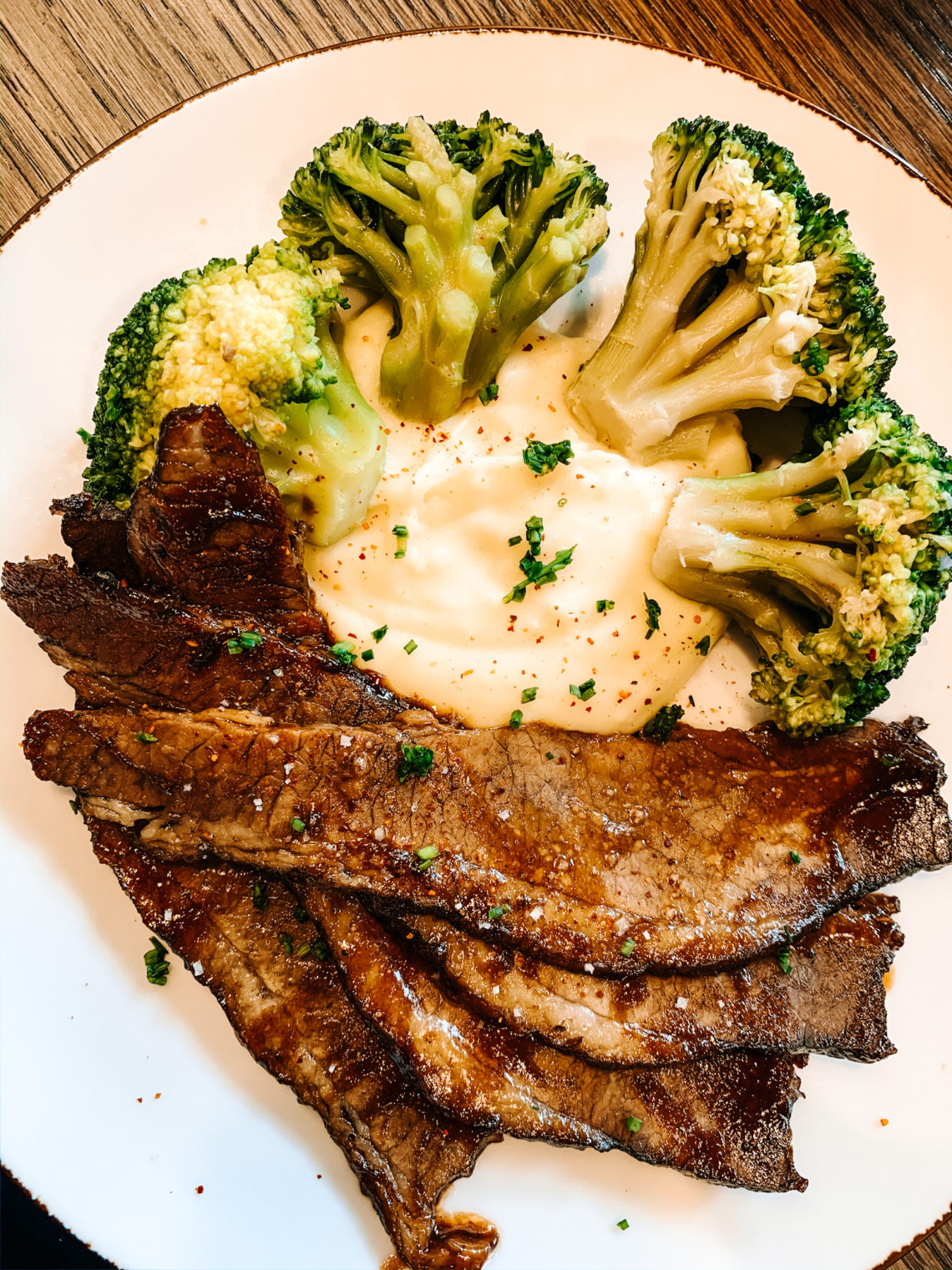 We went the traditional route for the desserts with a chocolate éclair and a lemon meringue tart. I must say that these two were absolutely delightful! The éclair was rich with fabulous chocolate and pastry. But the show stopper was the tart, with beautifully whipped meringue that did not give even the slightest bite of sugar. Mr FoodKissed, a renowned lemon meringue lover, had all the praises for this one, and rightly so.
In all, Q6 Bistro is a lovely little place to have a pleasant meal amidst the madness of the media city workdays. I can imagine the place to be packed during the week, but all was quiet and calm when I visited during the weekend lunch hour.