Mr FoodKissed has started working in hilarious proximity to Mrs FoodKissed (read: same bloody office building) and the latter has ingeniously crafted a concept called "Lunch Dates", which loosely translates to "take me out to eat". The ritual is designed to explore the dining scene of JLT, enjoy some delicious food & strategically make Mr FoodKissed pay for it all. This week's quest landed us at Betawi Café, a family-owned Indonesian restaurant in Cluster D, sandwiched between the popular Streetery on one side and the Vietnamese Foodies on the other.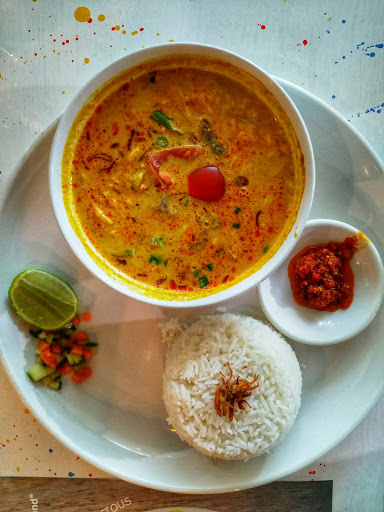 Betawi has a pleasant ambience with the green walls and mild air-conditioning almost transporting you back to any of the road side restaurants in the many Asian cities. The menu is not stuffed with options, making it easier to decide on your dishes quickly and spend the waiting time chatting up.
Betawi Cafe – JLT

Betawi Cafe – JLT
Soto Betawi (Aed 36) is a coconut based Betawi soup with diced beef and cabbage. It is served with steamed white rice, a chili paste and some pickled vegetables on the side. The broth of this soup is SO loaded on aromatic, coconut goodness, that my procedure of dunking a spoonful of rice into the soup bowl proved mad delicious. The rich texture petted by appetite and the rice-chilly-spicy, hot soup combo had me floored.
Bihun Goreng (Aed 35) was fried rice noodles with chicken, egg and vegetables. Since Mr FoodKissed cannot stand anything thicker than vermicelli (Im rolling my eyes, can you tell?), this dish was the perfect choice for him. It was absolutely delightful with thin slices of chicken & egg, and a lovely sweet soy base.
Bihun Goreng

Soto Betawi
How anybody can NOT like Asian food, I can never understand. Betawi Café has done a fabulous job serving up truly delicious Indonesian food, in a simple, authentic style. From the quick service to the easy, relaxed ambience, our lunch date was a successful one doused in rich coconut broth and fried rice noodles. A fab JLT find for a freakishly hot Tuesday!
Little on Betawi history:
Betawi launched in Dubai with a little space in Karama back in 2007. Currently they have 3 outlets in Karama & JLT together and has won and been nominated as the Best Budget Restaurant & Best South-East Asian Restaurant multiple times. FoodKissed had a complete #NotSponsored visit and highly recommend this home-grown restaurant to anybody who enjoys Asian cuisine.