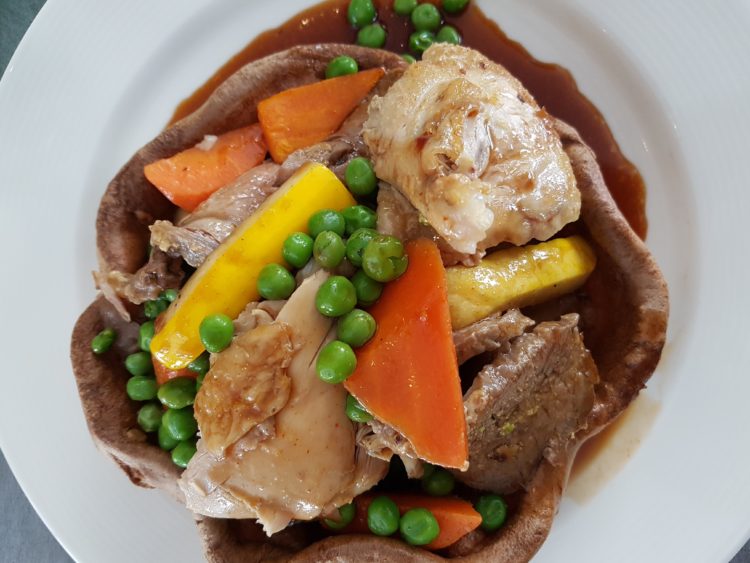 Disclaimer: FoodKissed was invited to the venue to try the newly launched Roast Dinner at WXYZ, Aloft Me'aisam Hotel.
If a cold bottle of Bud and a full plate of roast add up to your perfect Saturday lunch, Aloft Me'aisam Saturday Roast is something worthwhile your attention. I'm talking a bed of Yorkshire Pudding, loaded with succulent, grilled chicken or meat (or a mix of both, if you do not discriminate), drenched in a lip-smacking gravy. The rich, brown gravy does unspeakably good things to the grilled meats and roasted potatoes, peas and other accompanying vegetables. In all, the plate becomes one heavy, fulfilling meal for a person looking to have a relaxed Saturday lunch with a bottle of beer or a glass of wine, all in the chilled-out ambience of WXYZ, complete with pool view.
The Roast "Dinner" might be misleading with the timings being from 1-3pm, but the roast is true to its name, with all the delightful trimmings. The Chef is happy to take your order at the open grill beside the pool, or you can just tell him to go wild, which is what I did! The result was a fab looking platter of meats with lashings of gravy that made the whole affair rather sinful. For AED 99, the meal is a doubtless deal. Did I say there's a free hop/wine with every platter too? SOLD!
Offer: Traditional roast dinner with all of the trimmings and a hop for AED 99 per person
Time: 1- 3pm
Days: Every Saturday
Bookings: 04 2487070