A trip down to the Farmer's Market On the Terrace usually has my refrigerator ready to burst with veggies. The carrots and beets come adorned with a crown of fresh green leaves. The tomatoes carry around their stem with pride. Every vegetable is presented in its absolute form and the general tendency is to just keep buying them either until my wallet empties or my carry bags fill up. The result is a hoard of high quality vegetables that I must cook or put to use in the coming days in order to a)feed my family with nutritious food b)avoid spoilage and resulting intolerable guilt.
Walnut- Carrot Top Pesto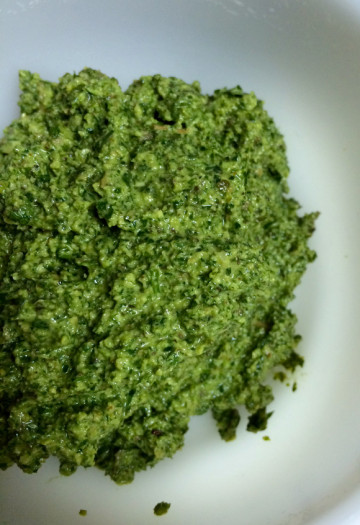 During the initial days, the kitchen waste would be incredible. Those parts that I was alien to, would naturally go to the bin. The carrot tops were the first to go in that regard. The beets heads would follow. It was heart breaking to see lush green leaves put away, "but hey, what could I possibly use them for?", I ignorantly wondered. A little bit of research and some great feedbacks from the lovely Fooderati community guided me to the world of home-made pesto. And I haven't looked back since.
Carrot tops that come loaded with nutrients can be ground to create beautiful pesto that would go fabulously with your otherwise boring sandwiches. If that doesn't come as a revelation to you, please don't take away my thunder. Humor me and read on. For the others, cut your kitchen waste to zilch, and gloat like you did Captain Planet a favor. And when they ask you "What WAS in that sandwich babe?", shrug it off with a "Oh, just something I whipped up…" and gloat some more.
Walnut- Carrot Top Pesto.
Green tops of one bunch of carrots (approx 500g)
Walnuts toasted in a pan – a handful
Olive oil – 4 tbsp (or more to adjust preferred consistency)
Cayenne pepper – 1 tsp
Crushed basil – 1 tbsp, or some fresh basil leaves
Sea salt – 2 pinch
Freshly ground pepper – to taste
Garlic- 3 cloves, peeled
Dijon mustard – ½ tsp
How to make the pesto:
Lightly toss and toast the walnuts in a pan over heat until the aroma starts coming out. Process all the ingredients together to form a paste. Add more olive oil to bring the paste to your preferred consistency.
How to use the pesto:
Spread it over sandwich bread with your choice of veggies or meat mix. Toss it with pasta or salad. Use it as filling for quiches and crepes. Go creative.
Not only do you reduce your kitchen waste tremendously by utilizing these carrot tops, you are including a great source of fiber and energy into your diet. There is satisfaction that you are making the most out of the organic vegetables you spend on, there is happiness in feeding yourself and your family just right and there is the wicked joy of leaving those unsuspecting victims wondering what on earth they just bit into! Win-win-win.