If I had to summarize my reaction upon stepping through the doors of my first Michelin starred restaurant, I would have to reproduce a high frequency "Eeeeek!" and you would have to be satisfied with just that. But luckily, here in my blog, I have the freedom to shamelessly use as many adjectives as I fancy to describe and revel over the experience that my husband (as he reminds me off-late when I creatively build up a new fight) paid an arm and a leg for, and I hysterically enjoyed!
The Onyx Saga.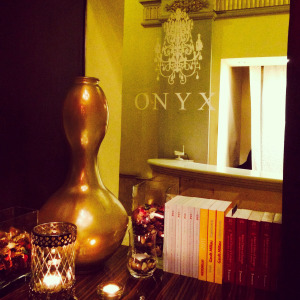 Elegant and beautiful. Onyx.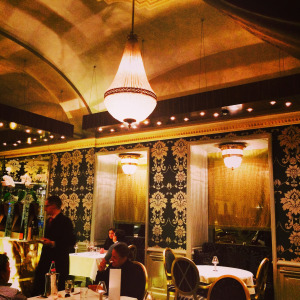 It was Dubai that introduced me to the world of Michelin stars – the concept that a bunch of anonymous "Inspectors" dine at worthy restaurants to judge and award them (or not) with stars on the basis of relevant criteria. While we have Michelin star chefs flying into the city now and then to whisk up a storm at their Dubai establishments, the irony lies in the fact that there are really no Michelin star restaurants in Dubai.
So when the husband surprised me with a trek to one of Budapest's best fine-dining restaurants, I made a mental note to forgive him for all sins and arguments till the end of the year.
Located in the Vörösmarty Square in the heart of Budapest, Onyx Restaurant opened its doors in April 2007. It is perfectly seated amidst the city's finest hotels, and has a charming vintage décor that seems to transport you to a pretty little castle where they serve delectable food and of course, fabulous wines.
It was a herculean attempt to walk casually to our table- as if we walk into Michelin starred restaurants every other week. A tiny stool was discreetly brought to the corner of my seat so as to place my purse. Once settled, the million dollar decision had to be made – go by the book and settle for a 3 course meal OR go crazy and try out the Chef recommended Tasting Menu with its wine pairings. The latter was the easiest choice, if only the rates attached didn't make me hyperventilate! But what the hell, it wasn't a recurring expense (or so we convinced ourselves), so might as well go all out with our guns (read appetite) blazing! "Tasting menu!"- We roared.
The Onyx Entrance.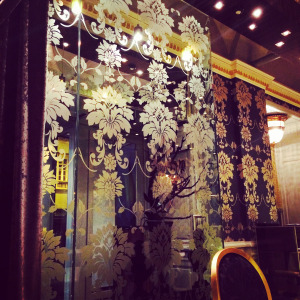 Tasting Menu recommended by the Chef couple Szabina Szullo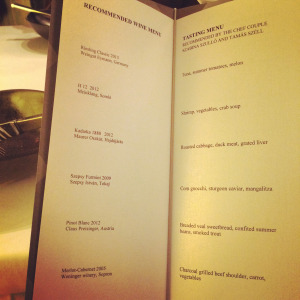 Ready to be FoodKissed at Onyx!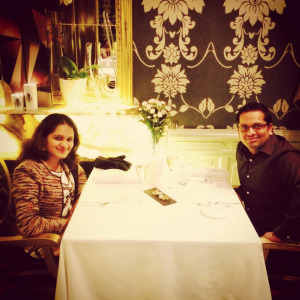 Our buoyant spirits were upheld with some beautiful Champagne. As we were hungrily drinking in the ambience and the lovely fresh flowers placed in belated celebration of my birthday (yes, it was a birthday surprise from the husband), our Bread Basket – at least 20 different varieties of home-baked breads rolled on a cart by a gentleman- arrived. There were rosemary bread, 3 cheeses breadsticks, olives & garlic, chorizo bread, squid milk blackened bread, paprika crusted bread, pogacas, chive & potato bread and many more. A fine sight to put our hunger on ignition. This came along with a serving of butter, lard flavored with paprika and mangalica terrine.
The Bread Basket has arrived!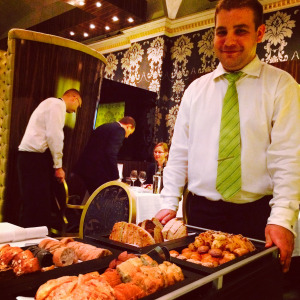 The famed bread basket at Onyx Restaurant.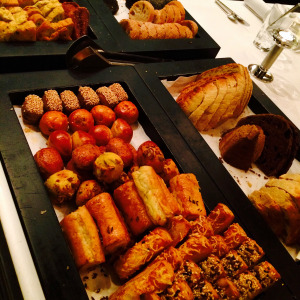 Serving of butter, lard flavored with paprika and mangalica terrine.
The breads, as many as we could taste without damaging our appetite, had distinguished flavors and aroma. This was followed by a palate-cleanser that promptly did its job and prepared us for the 8-course journey ahead!
The first course was Tuna, summer tomatoes and melon paired with a glass of Riesling Classic 2013 from Weingut Eymann, Germany. An exquisite start, I must say. It was tuna as we had never relished it. The tomatoes burst in our mouth and the overall combination was sheer brilliance.
The second course- Shrimp, vegetables and crab soup. A fusion of flavors that did fabulous things to our taste buds. Paired with H 12 2012 from Meinklang, Somlo, the dish was near perfection.
By now we had learnt to raise our bars to suit the Onyx level of deliciousness. So when the third course of Roasted cabbage, duck meat and grated liver was brought to us, we thought we knew what was in store. But one bite into what we naively assumed was simple cabbage, we realized that Onyx received its Michelin for good reason. Cabbage never tasted so mouthwatering. Blending with perfectly cooked duck meat and grated liver, the dish was "lick-the plate-worthy". This was paired with Kadarka 1880 2012 from Maurer Oszkar, Hajdujaras.
Up next as the fourth course was Corn gnocchi, sturgeon caviar and mangalitza. Paired with Szepsy Furmint 2009 from Szepsy Istvan, Tokaj. Seductively creamy, the gnocchi was melt in the mouth material. Sturgeon caviar, one of the most expensive seafood was a pleasure to savor.
Fifth course consisted of Breaded veal sweetbread, confited summer beans and smoked trout, paired with Pinot Blanc 2012 from Claus Preisinger, Austria. The veal was relatively lower on the flavors for me, probably because breaded wasn't one of my favorite techniques. The summer beans helped to bring balance to the meat and the trout was cooked to lose none of its beauty.
The sixth course, the absolute main, the showstopper. Charcoal grilled beef shoulder, carrot & vegetables. Paired with Merlot- Cabernet 2005 from the Weninger winery, Sopron. One of those dishes that looks so elegant and so loaded with potential that your fingers tremble a little as you capture the dish in pictures. The veal fell apart beautifully at the gentlest probe of my knife, much like the crumble of a girl's defense at her lover's tender touch. Okay, poetry is my husband's forte, not mine. So kindly excuse my weak attempt at putting this gastronomical experience into words of romance. Blame the dish that evokes poetry!
After being served a palate cleanser of raspberry sorbet, we officially crossed over to the dessert side. I gently got up to take a peek around the restaurant, and within no time grasped the power of all those pairings! Nevertheless, without toppling over, I managed to explore the intimately done interiors. There were 2 rooms with a total of 55 seating. Quite small, but truly elegant. Onyx derives its name from the onyx work done across the restaurant walls.
Back at the seat, we waited in anticipation of my favorite part of the meal. The pairing of Szamorodni 2008 from the Kikelet winery, Tokaj was brought first with both the desserts in tow. Seventh course came in a wide mouthed glass in the form of Cherry, curd and white chocolate. More of a dark chocolate fanatic, I may not have chosen it on an a la carte order. But the dish was pleasing and well balanced for those mild sugar lovers.
Course eight, which was tragically our last course for the night, spoke my language. It was a Mint, chocolate & lemongrass dessert. The presentation looked like art and broke my heart to disrupt it. But the spearmint, peppermint and lemongrass sorbets along with the dense chocolate demanded my attention. And they shall oh so have it!
With soaring spirits and a gratified tummy, I sat back. The husband was on a brownie-point mission I believe. He asked me to follow the waiting restaurant manager. It was quite difficult to restrain myself from swearing as I was taken to the backstage of a Michelin starred show- the Onyx Kitchen!! With brimming excitement, I chatted with the Chef couple Szabina Szullo and Tamas Szell, the Executive Chef and Onyx Chef respectively.
A short tour of the kitchen, albeit in its closing minutes, showed me once again that great things could be produced in small spaces. Note to self- take the kitchen tour BEFORE the mains, and definitely before all the pairings!
Once again back at the seat, I was beginning to tone down my ear-to-ear grin when the celebratory cake (for my belated birthday celebration) was brought. It was one of the prettiest cakes I had had the pleasure to cut. Needless to say, it was chocolate heaven and to kill for. Happy Birthday to me!
Just when we thought the ride was over, around came the adorable cart with petit fours on it. We chose one of each and seeing our distress at downing them into an already stuffed tummy, the restaurant manager kindly arranged them in a box for us to take back home. This was apart from the little black chocolate box they gave us as parting gifts. Seriously, what's not to love about this place?
The pricing story per person:
Chef Recommended Tasting Menu – 28,500 HUF.
Wine Pairing – 19,900 HUF.
Total – 48,400 HUF (158 EUR)
Plus 15% service fee for food & beverages.
FoodKissed!!