I'm going to skip the flowery start for this one. Because by far, this has got to be one of the best meals I have had in the recent times. A gastronomical extravaganza by all means. Oops, am I beginning with the embellishments? Pardon me. Old habits, die hard. Presenting to you a contemporary twist to the vibrant Spanish cuisine- El Sur at The Westin Mina Seyahi.
Few Mondays have ended so delightfully for me. A perfect blend of fine dining ambience and casual dining etiquette, El Sur is the kind of place where you could throw your head back and laugh or clap your hands and whoop, after the stress and drama of a Monday workday. Rightly named "Gastronomic Mondays", their June-July promotion is a tribute to the world- renowned "El Bulli" restaurant. Exquisite additions to the menu by the El Sur Chef Juan Carlos, in honor of Ferran Adria, the chef who earned El Bulli its worldwide fame.
The start to some fabulous food.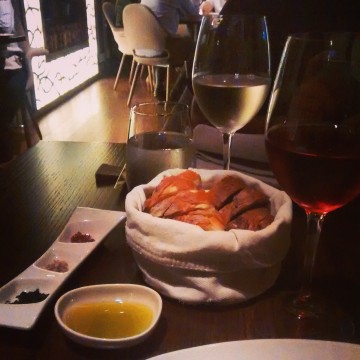 The tasting started off with some vino and the very efficient restaurant manager Nadia giving an overview of what's coming.
Starter #1. Aceitunas liquidas marinadas – Liquid marinated olives.
These liquid marinated olives take the term "burst-in-the-mouth" to a whole epic level. This is an emulsion of fantastic olive purée, encapsulated with the sodium alginate process, and later brined. Rich Spanish olive oil bursts in your mouth as the thin film holding it together breaks. An explosion that could take you off-guard, but with no complaints whatsoever.
Starter #2. Anchoas con tomate – Cantabric anchovies with tomato texture.
Tomato modified to the texture of foam. Who would have thought that was possible? Certainly not me. So while I bit into this wafer thin bread, topped with tomato foam and wonderful anchovies that was soft and full of flavor without the hit of excessive salt, I was in for a revelation- innovations can lead to the creation of beautiful food.
Liquid marinated olives & Cantabric Anchovies with tomato textures.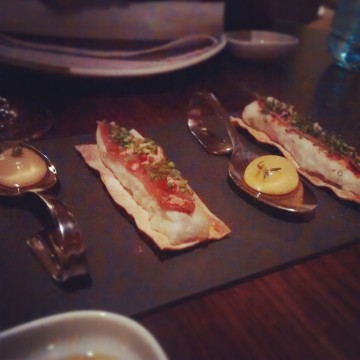 Starter #3. Canelon de aguacate con atun – Avocado cannelloni with tuna.
Avocado wrapped around tuna. Deliciousness in cannelloni form. A platter with three odd numbers could have brought about some hard decisions on a 2-seater table. But thanks to the idea of using knife to divide the third, we were able to settle the issue amicably. Did I mention the tomato jelly that came with it? Oh, slurp!
Avocado cannelloni with tuna.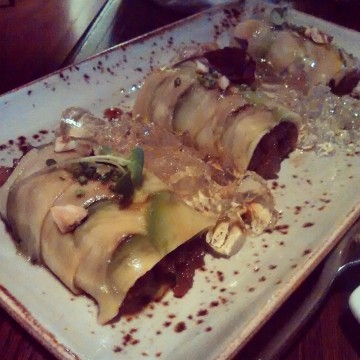 Starter #4. Baguette aire con jamon y queso manchego – Air bag with ham and manchego.
Wafer thin and light crusted pastry, filled with manchego cheese and topped with a thin strip of ham. One bite gives you the crispiness of the bread, the hunger-inducing flavor of the meat and the wonderfully creamy texture of the cheese. What more can you ask for?
Air bag with ham & manchego.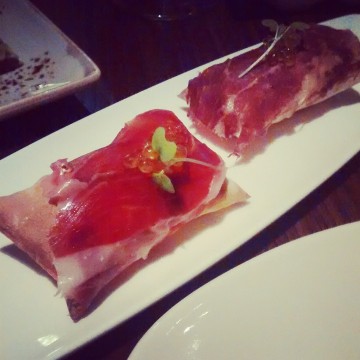 Starter #5. Huevo de gallina con patata y trufa – Hen egg with potatoes and black truffle.
For a person who is obsessed with eggs, my husband was able to restrain his excitement to a 2 feet grin upon seeing this dish. The top of the egg shells were cut off in perfection, to top the yolk with an ultra-rich mix of potatoes and black truffle that could be scooped out with a spoon. Delicate flavor that can make you dance around in your happy place.
Hen eggs with potatoes and black truffle.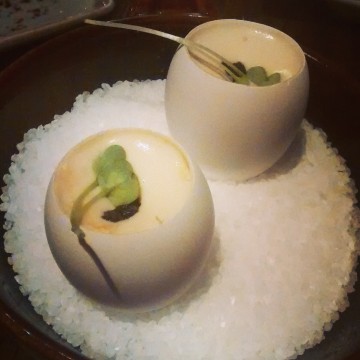 Starter #6. Burratta con cerezas y vinagreta de mostaza – Burratta with cherries and mustard vinaigrette (V)
I'm a self-acclaimed lover of all things cheesy. Needless to say, burratta will get my attention. But the winner in this dish was the mustard vinaigrette. Coupled with the tasty tanginess of the cherries, this was well worth spooning into the palette!
Burratta with cherries and mustard vinaigrette (V)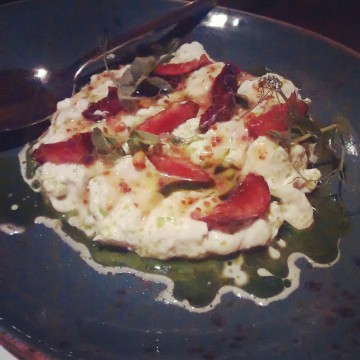 And as a tribute to El Bulli….

Croquetas liquidas de jamon – Liquid ham croquets
Burst in the mouth. Remember the liquid marinated olives? Same story. Perfectly created to take you to a new level of epicureanism. Topped with some brown crispy flakes, you have to wait until you have swallowed this sphere of liquid happiness, to express just how much you enjoyed it.
Liquid ham croquets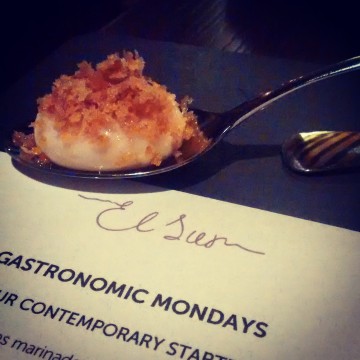 Tortilla de patatas deconstruida – Deconstructed Spanish omelet
This was my first time with a Spanish omelet in a martini glass! Deconstructed omlete, a molecular gastronomical dish, that you need to spoon from the bottom to get the lovely combination of onions, potato and creamy egg.
Deconstructed Spanish omelet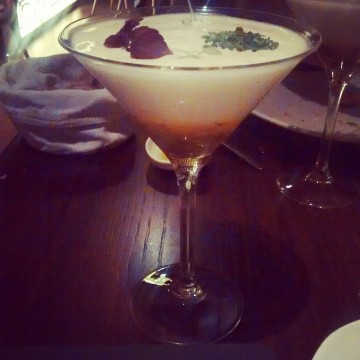 Paella Kellogs – Kellog's Paella
Rarely do you think much of a handful of puffed Rice Krispies. Combine them with some intensely reduced seafood broth, you land yourself another molecular gastronomical treat. This was a bit too intense for Mr.Foodkisser, but worked fine with me.
Kellog's Paella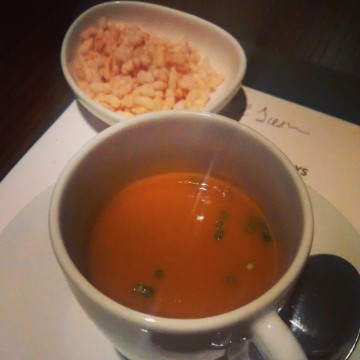 If you ask me, El Sur's Gastronomical Mondays are nothing short of an experience in itself. The tribute to "El Bulli" is so packed with surprises and rich, aromatic flavors that you would selfishly pray to incorporate each of them to their regular menu. The pricing story varies for each of the starters (with obviously more quantity than was served for the tasting night). Leave the worries of the weekday at home, let your hair down and order some of those liquid olives I say!
P.S: We couldn't go without testing the waters of the dessert options. The result was two gorgeous plates.
Vanilla Catalana cream and mandarin sorbet.
A version of crème brulee, this dessert was absolutely mouthwatering. Topped with the tangy mandarin sorbet, we creamed it out and enjoyed every spoon of it!
Vanilla Catalana cream and mandarin sorbet.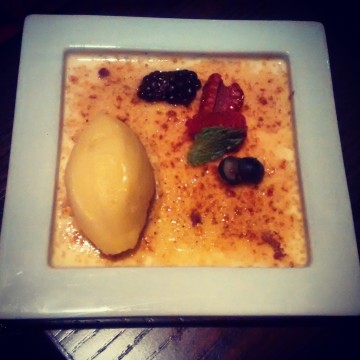 Chocolate textures with black sesame icecream.
The chocolate textures deserved a standing ovation. I couldn't help sighing in pleasure at the very first spoon. The black sesame icecream was a new ride. It was good, but not my taste when it comes to icecream
Chocolate textures with black sesame icecream.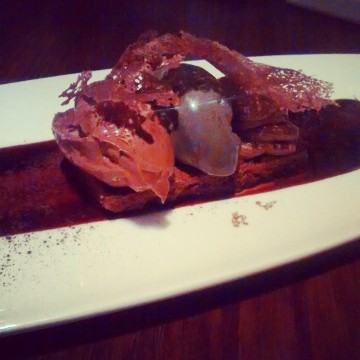 The desserts are priced at AED 50 each.

You can contact El Sur at +971 4 399 7700 for reservations to dine in. It is located inside the elegant Westin Mina Seyahi.