Banana Pancakes topped with passionfruit, blueberries and a drizzle of honey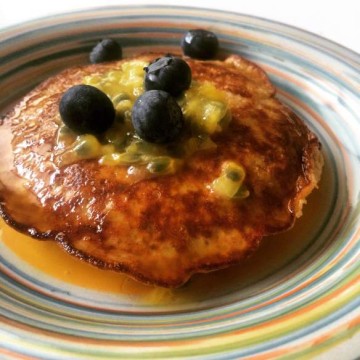 "But how could someone NOT like BANANAS?!"
My dad would throw his hands up to the heaven and shoot this high-pitched question to the cosmic universe. My hatred of his favorite fruit baffled him, distressed him and downright angered the hell out of him. We would spend long spells of negotiations around the dinner table on how many bananas I should ideally be eating (in his defense) and what I can possibly swap the dreaded fruit with (in my defense). "Yeah my daughter is allergic to whatever is good and healthy", he would matter-of-factly point out to my mother, husband, neighbors and everybody who would care to listen- almost always referring to bananas. Oh, such fun times!
So this fruit has generally managed to haunt me through out my childhood, adolescence and subsequent adulthood. With all its nutritional benefits and tag of being "the complete food", it keeps springing up everywhere I look…including my instagram feeds to kick my Guilt Goddess awake from her peaceful, eluding slumber. And that's saying something as it usually takes a LOT to wake that woman up!
So here I'm, with a bunch of ripe, organic bananas in my pantry and a mind determined to feed it to my banana-benefit-deprived health. 5 minutes of browsing the Internet for "healthy banana breakfasts" gave the most appealing solution to my confusion. And the solution is simply legen..wait for it…dary!!!
Let me introduce to you… Banana Pancakes! Oh. But of course you knew about it. Jeez, am I the last one to hear of this super awesome creation of mankind? Anyway, I'm still doing my mental dance as this discovery has allowed me to enjoy downing two whole bananas with a freaking smile on my face…now who would have thought such a day would come?!
The original version of this recipe can be found at Willowbirdbaking.com. I haven't changed much from it, except for the ditching of the protein powder and an addition of cinnamon powder.
Yield: 4-5 pancakes (which should be good for one hungry person, considering how soft, moist and easy to down these are)
Banana Pancakes #FoodKissed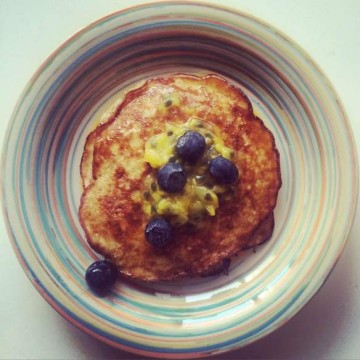 Things you need:
Ripe bananas – 2 medium
Eggs – 2
Baking powder – a pinch
Cinnamon powder –1/4th tsp
Vanilla extract – 1 tsp
How to go about it:
Mash the bananas with a fork till it is pulpy. Add the two whole eggs, the baking powder, cinnamon powder and vanilla extract to this and whisk well to form a batter. It is all right if it is a tad lumpy.
Keep a pan on medium heat. It is ready for use when water dropped on it sizzles. Apply cooking spray and gently pour a ladle of the batter on to the pan. Let it cook for about 25-30 seconds till it is beautifully browned. Flip. Stay for another 25 seconds till this side is done as well.
Hop it on to your plate, top it up with some dreams and fruits/ butter/ cream and drizzle it up with some love and honey/ syrup/ sauce. Dig away.
Banana-haters, you are welcome. I accept gratitude in the form of cupcakes.